Sailing in Crete
Fabulous beaches, nice warm waters, endless sunshine the whole year around: this is Crete. Along the coast there are countless small bays, beautiful sandy beaches, picturesque Cretan villages full of tradition and culture. Our territory stretches from Rethymno all the way to Vai, but we feel most comfortable around the Golf of Mirabello. We are not a regatta team and we hate to chase after the miles and sail by gorgeous bays. Casual sailing with good winds without the annoying zig zag, that's what we prefer! Come late afternoon, we love to drop anchor in a quiet bay. We might soak up the atmosphere in a small restaurant in a sun-drenched village, or wander through the local market, savouring the scents of the Mediterranean and buying fresh fruit and vegetables. We might barter with the local fishermen for fish caught but a few hours ago. Perhaps we´re just feeling lazy and will take a dip in shining seas surrounded by a timeless landscape where humans have dwelt since time immemorial.
Our tours can be tailored to your wishes : We can take a relaxed journey along the coastline or set the sails to cruise around the island;we can drop anchor in a picturesque bay, or in a busy marina, from where we can visit the cities or go on excursions. We can organise an exciting water sports program, including surfing, diving or snorkeling. we aim to show you the Crete we love and make you fall in love with it as well!!!
The Boat
«Steamy Windows» is not just a boat-
She's an experience!
«Steamy Windows» is very agile and has excellent sailing characteristics. Sailing casually with the convenience of a Catamaran is every sailor's dream. The engine, centreboard and helm are all retractable, which reduces the boat´s draft to a mere 60 cm. This allows us to get very close to the coastline and into quiet waters, or even to beach on the sand. All you have to know about sailing is how to hold your cocktail glass while lying on the decknet. Who needs the stress of collecting when you can enjoy the Greek sea and sun? On our 60m² deck there is enough space for 6 guests. No squeezing and sharing the deckpillows, instead you can lie on the 17 m² net.
Here are some numbers    

Equipment

11,8m long
GPS
7m wide
Echolot
60 m² deck
VHF
92 m² sailsurface
SSB
6-7 guests
Navtex
2 double cabins
Solar panels
2 single cabins
Wind generator
2 Wcs
12/220V
17 m² net
CD Player
Small boat with outbord engine
All the required safety and rescue
equipment for passengers and crew
The Crew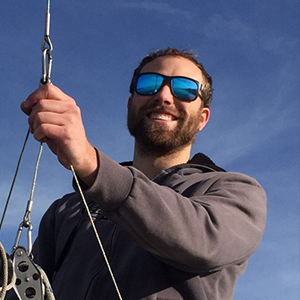 Michel
The passionate skipper
Born and raised in Basel, Switzerland, Switzerland, the young aircraft engineer has turned his
back on the aviation industry after 15 years in order to make his passion into his job.He also
enjoys surfing, diving, kitesurfing and motorsports.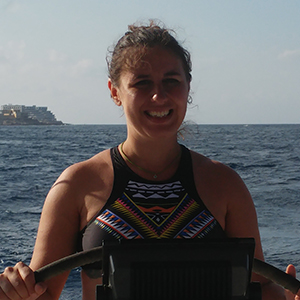 Elfi
Ground Crew
A native Greek who has spent most of her life in Agios Nikolaos,Crete, she naturally knows
the best hidden spots on the island. She is the good soul and will make you feel comfortable
from the first email on. She is the person behind the computer, handling reservations,
transfers, excursions and making your every wish come true, regardless of whether that means
buying soya milk or preparing a surprise gift.
Excursions can be organised at each station of the trip. These offer a great opportunity to explore the inside of Crete. It can be sporty, culinary or just something fun to do- you name it we have it! From ATV Safari and Cretaquarium visit to diving and cooking lessons in a traditional village. And if just the equipment is missing? After arrangement we can put a great variety at your disposal: Longboards, Bicycles, SUPs, Kites, Windsurfboards or snorkeling equipment.
Excursions and Extras
All
Custom Apps
Ετοιμες Εφαρμογες
Contact
---
For information and bookings please fill the following form: